Nissan Maxima Service and Repair Manual: Radiator
Exploded View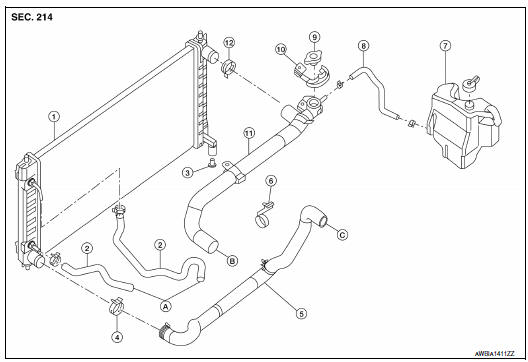 Radiator
CVT oil cooler hose
Radiator drain plug
Radiator hose (lower) clamp
Radiator hose (lower)
Radiator hose (lower) bracket
Reservoir tank
Reservoir hose
Radiator cap
Radiator cap adaptor
Radiator hose (upper)
Radiator hose (upper) clamp
To CVT
To water outlet
To water inlet
Removal and Installation
WARNING: Do not remove the radiator cap when the engine is hot. Serious burns could occur from high pressure coolant escaping from the radiator. Wrap a thick cloth around the radiator cap. Slowly turn it a quarter turn to allow built-up pressure to escape. Carefully remove the radiator cap by turning it all the way.
NOTE: When removing components such as hoses, tubes/lines, etc., cap or plug openings to prevent fluid from spilling.
REMOVAL
Drain coolant from radiator. Refer to CO-11, "Changing Engine Coolant".
Remove hoodledge covers (LH/RH).
Remove front bumper fascia. Refer to EXT-16, "Removal and Installation".
Remove battery tray. Refer to PG-68, "Removal and Installation (Battery Tray)".
Disconnect reservoir hose.
Disconnect radiator hose (upper) and radiator hose (lower).
Remove A/C condenser. Refer to HA-45, "CONDENSER : Removal and Installation".
Disconnect the CVT oil cooler hoses
Remove radiator.
CAUTION: Do not damage or scratch the radiator core when removing.
INSTALLATION
Installation is in the reverse order of removal.
After installation refill engine coolant and check for leaks. Refer to and CO-10, "System Inspection".
CAUTION: Do not spill coolant in engine compartment. Use a shop cloth to absorb coolant.
INSPECTION
Radiator
Check radiator for mud or clogging. If necessary, clean radiator as follows.
CAUTION:
Be careful not to bend or damage the radiator fins.
When radiator is cleaned on-vehicle, remove surrounding parts in order to access the radiator core. Tape the harness and electrical connectors to prevent water from entering.
Spray water to the back side of the radiator core using a side to side motion from the top down.
Stop spraying when debris no longer flows from radiator core.
Blow air into the back side of radiator core using a side to side motion from the top down.
Use compressed air lower than 490 kPa (5 kg/cm2, 71 psi) and keep distance more than 30 cm (11.8 in).
Continue to blow air until no water sprays out.
Inspect radiator for leaks as follows:
Apply pressure using Tool.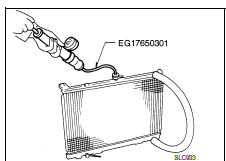 Tool number : EG17650301 (J-33984-A)
Leakage test pressure : Refer to CO-27, "Radiator".
WARNING: To prevent the risk of the hose coming undone while under pressure, securely fasten it down with a hose clamp.
Attach a hose to the oil cooler as well.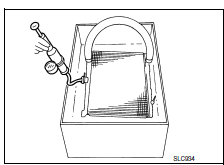 Check for leaks.