Nissan Maxima Service and Repair Manual: Cooling fan
Removal and Installation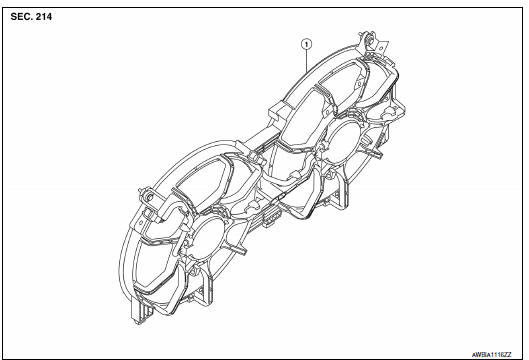 Radiator cooling fan assembly
WARNING: Do not remove the radiator cap when the engine is hot. Serious burns could occur from high pressure coolant escaping from the radiator. Wrap a thick cloth around the radiator cap. Slowly turn it a quarter turn to allow built-up pressure to escape. Carefully remove the radiator cap by turning it all the way.
NOTE: When removing components such as hoses, tubes/lines, etc., cap or plug openings to prevent fluid from spilling.
REMOVAL
Partially drain engine coolant from radiator. Refer to CO-11, "Changing Engine Coolant".
CAUTION: Perform when engine is cold.
Remove engine room cover. Refer to EM-23, "Removal and Installation".
Remove TCM. Refer to TM-168, "Removal and Installation".
Remove battery tray. Refer to PG-68, "Removal and Installation (Battery Tray)".
Disconnect radiator hose (upper).
Disconnect the harness connectors from the radiator cooling fan motor.
Remove radiator cooling fan assembly.
INSTALLATION
Installation is in the reverse order of removal.
Radiator cooling fans are controlled by ECM. Refer to EC-486, "Description".