Nissan Maxima Service and Repair Manual: Sunroof system
System Diagr
SUNROOF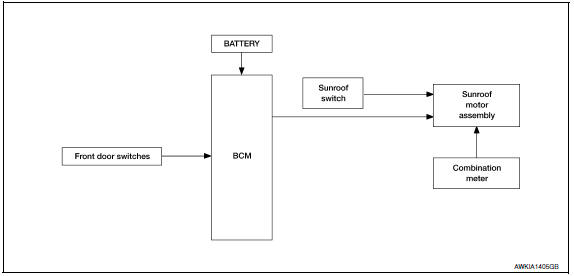 System Description
SUNROOF SYSTEM
INPUT/OUTPUT SIGNAL CHART

SUNROOF OPERATION
Sunroof motor assembly operates with the power supply that is output from BCM while ignition switch is ON or retained power is operating.
Tilt up/ down & slide open/ close signals from sunroof switch enable sunroof motor to move arbitrarily.
Sunroof motor assembly receives a vehicle speed signal from combination meter and controls the sunroof motor torque of tilt down at the time of high speed operation.
AUTO OPERATION
Sunroof AUTO feature makes it possible to slide open and slide close or tilt up and tilt down the sunroof without holding the sunroof switch in the slide open/tilt down or slide close/tilt up position.
RETAINED POWER OPERATION
ANTI-PINCH FUNCTION
The CPU of sunroof motor assembly monitors the sunroof motor operation and the sunroof position (fullyclosed or other) by the signals from sunroof motor.
When sunroof motor detects an interruption during the following slide close and tilt down operation, sunroof switch controls the motor for open and the sunroof will operate until full up position (when tilt down operates) or 150 mm (5.91 in) or more in an open direction (when slide close operates):
close operation and tilt down when ignition switch is in the "ON" position
Component Parts Location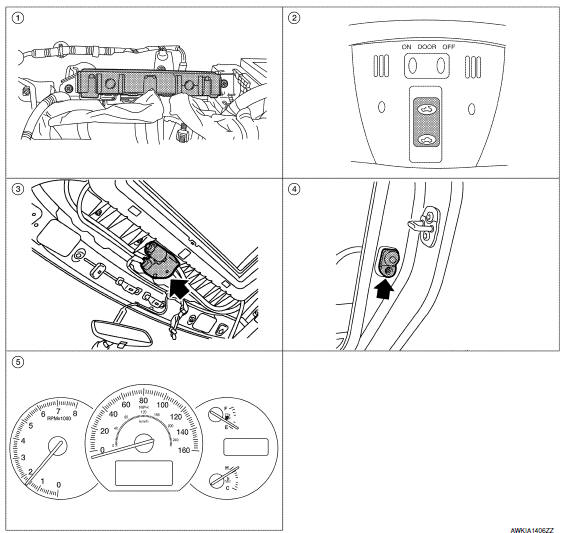 BCM M16, M17, M18 (view with instrument panel removed)
Sunroof switch R6
Sunroof motor assembly R5
Front door switch LH B8, RH B108
Combination meter M24
Component Description