Nissan Maxima Service and Repair Manual: Front sunroof glass
Removal and Installation
REMOVAL
Remove the wind deflector. Refer to RF-168, "Removal and Installation".
Tape down the glass lid weatherstrip along the from sunroof glass with protective tape.
Apply protective tape around the front sunroof glass to protect the surface from damage.
Cut adhesive.
Pass piano wire through the adhesive with a wire pierce.
Tie piano wire on both ends at assist in wire grip.
Pull piano wire with a sawing motion to cut through the adhesive.
Remove the front sunroof glass.
INSTALLATION
WARNING:
Keep heat and open flames away as primers and adhesive are flammable.
The materials contained in the kit are harmful if swallowed, and may irritate skin and eyes. Never let them contact the skin or eyes.
Use in an open, well ventilated location. Never breathe the vapors. They may be harmful if inhaled.

Move immediately to an area with fresh air if affected by vapor inhalation.
NOTE:
Use a genuine Nissan Urethane Adhesive Kit (if available) or an equivalent and follow the instructions furnished with it.
Inform the customer that the vehicle should remain stationary until the urethane adhesive has completely cured (approximately 24 hours). Curing time varies with temperature and humidity.
Using a knife or spatula, trim the adhesive (sealant) remaining on body down to approximately 2 mm thick (a) so that the contour becomes smooth.
CAUTION: If bonded area on body is scratched, be sure to repair it with a 2-component urethane. Do not use lacquer.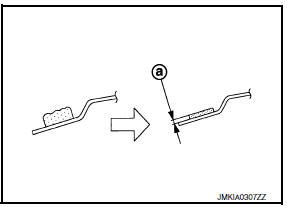 When installing new front sunroof glass, position the front sunroof glass (no adhesive) first onto the vehicle and paint mating marks on the body and the front sunroof glass, then remove it again.
Thoroughly clean bonding area on the front sunroof glass and the body with isopropyl alcohol or equivalent.
Apply primer to the body and the front sunroof glass (lower) surfaces.
Apply adhesive to the contact areas of the body within the time specified in the instructions for the adhesive.
Open adhesive by cutting off the nozzle tip and set it in a sealant gun.
Form a continuous bead of adhesive resembling the measurements in applied thickness (A), and in applied width (B) on the body panel.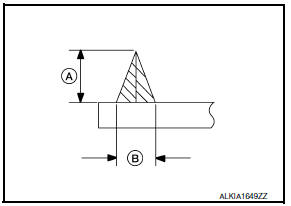 Adhesive applied thickness (A) : 13 +- 1 mm (0.51 +- 0.039 in)
Adhesive applied width (B) : 8 +- 1 mm (0.31 +- 0.039 in)
Position the front sunroof glass, align the paint marks and lower it into position.
Press down lightly by hand to evenly expand the adhesive contact with the front sunroof glass.
Using a suitable tool, remove any adhesive overflow.
Remove the protective tape.