Nissan Maxima Owners Manual: Fuel gauge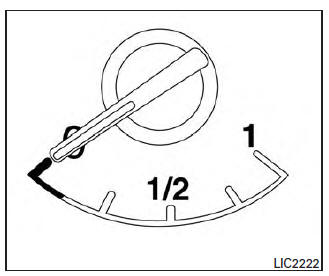 The gauge indicates the approximate fuel level in the tank.
The gauge may move slightly during braking, turning, acceleration, or going up or down hills.
The gauge needle returns to 0 (Empty) after the ignition switch is placed in the OFF position.
The low fuel warning message shows in the vehicle information display when the amount of fuel in the tank is getting low.
Refill the fuel tank before the gauge registers 0 (Empty).
The

indicates that the fuel-filler door is located on the driver's side of the vehicle.
CAUTION
If the vehicle runs out of fuel, the Malfunction Indicator Light (MIL) may come on. Refuel as soon as possible.

After a few driving trips. the light should turn off. If the light remains on after a few driving trips, have the vehicle inspected. It is recommended that you visit a NISSAN dealer for this service.

For additional information, refer to "Malfunction Indicator Light (MIL)" in this section.