Nissan Maxima Service and Repair Manual: Front wheel hub
Removal and Installation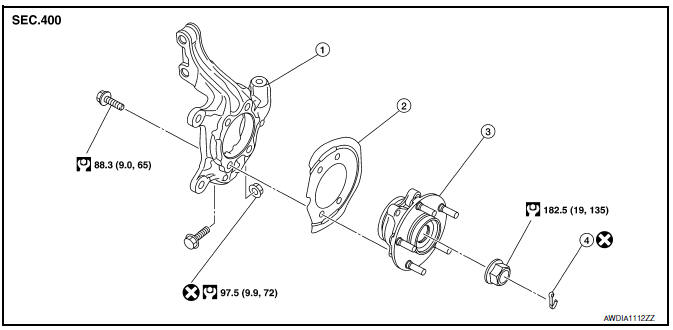 Steering knuckle
Splash guard
Wheel hub and bearing assembly
Cotter pin
REMOVAL
Remove wheel and tire using power tool. Refer to WT-60, "Adjustment".
Remove wheel sensor from steering knuckle. Refer to BRC-102, "Removal and Installation - Front Wheel Sensor".
CAUTION: Do not pull on wheel sensor harness.
Remove brake hose lock plate from strut assembly.
Remove brake caliper torque member bolts using power tool leaving brake hose attached, then remove disc rotor. Reposition caliper aside with wire. Refer to BR-32, "Removal and Installation of Brake Caliper and Rotor".
NOTE: Avoid depressing brake pedal while brake caliper is removed.
Remove cotter pin, then loosen lock nut from drive shaft using power tool.
Using a piece of wood and a hammer, tap on lock nut to disengage drive shaft from wheel hub.
CAUTION:
Do not place drive shaft joint at an extreme angle. Also be careful not to overextend slide joint.
Do not allow drive shaft to hang down without support.
NOTE: Use suitable puller if drive shaft cannot be separated from wheel hub and bearing assembly.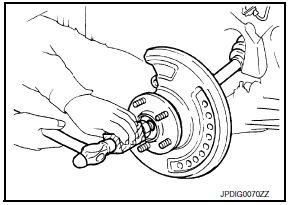 Remove wheel hub and bearing assembly bolts using power tool.
Remove splash guard and wheel hub and bearing assembly from steering knuckle.
INSPECTION AFTER REMOVAL
Check for deformity, cracks and damage on each part, replace if necessa
INSTALLATION
Installation is in the reverse order of removal.
CAUTION:
Do not reuse cotter pin.
Do not reuse wheel hub lock nut.
When installing wheel hub and bearing assembly to steering knuckle, align cutout in toner ring cover with wheel sensor mounting hole in steering knuckle.