Nissan Maxima Service and Repair Manual: Low tire pressure warning lamp blinks
Low Tire Pressure Warning Lamp Flashes When Ignition Switch Is Turned On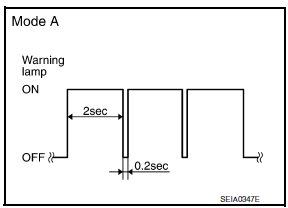 NOTE: If low tire pressure warning lamp flashes as shown, the system is normal.
Flash Mode A
This mode shows transmitter status is OFF-mode.

Carry out transmitter wake up operation.
DIAGNOSTIC PROCEDURE
1.CHECK BCM CONNECTORS
Turn ignition switch OFF.
Disconnect BCM harness connectors.
Check terminals for damage or loose connections.
2.CHECK TIRE PRESSURE WARNING CHECK CONNECTOR CIRCUIT
Check continuity between BCM harness connector M18 terminal 57 and ground.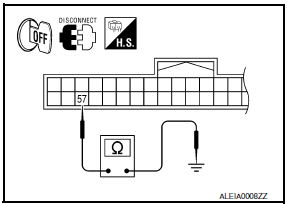 Continuity should not exist.