Nissan Maxima Service and Repair Manual: Steering wheel
Removal and Installation
REMOVAL
NOTE: When removing spiral cable, use tape so that the case and rotating part keep aligned. This will prevent neutral position alignment procedure during spiral cable installation.
Set steering wheel to the straight-ahead position.
Remove driver air bag module. Refer to SR-12, "Removal and Installation".
Remove steering wheel lock nut after steering is locked.
Remove steering wheel using Tool (A).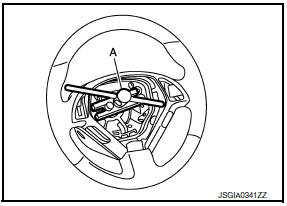 Tool number (A) : ST27180001 (J-25726-A)
INSTALLATION Installation is in the reverse order of removal.
CAUTION: Do not rotate spiral cable freely or excessively when the steering wheel is removed. Doing so may cause spiral cable damage.
NOTE:
Check the spiral cable neutral position after replacing or rotating spiral cable. Refer to SR-15, "Removal and Installation".
Tighten the steering wheel lock nut to specification.