Nissan Maxima Service and Repair Manual: Diagnosis and repair work flow
Work Flow
OVERALL SEQUENCE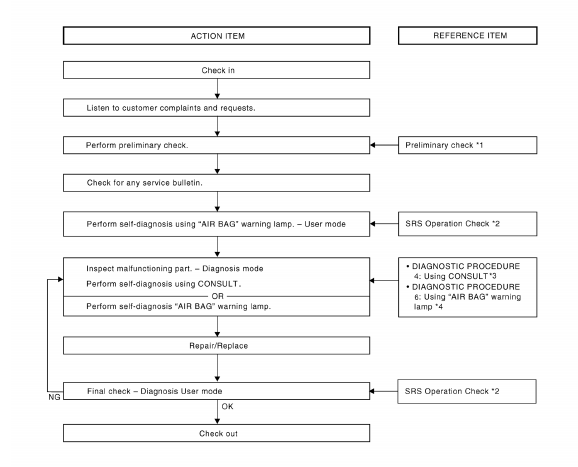 DETAILED WORK FLOW
1.CUSTOMER INFORMATION
Get detailed information from the customer about the symptom.
2.PRELIMINARY CHECK
Perform preliminary check.
3.TECHNICAL SERVICE BULLETINS
Check for technical service bulletins.
4.USER MODE
Perform self-diagnosis using the "AIR BAG" warning lamp in User mode.
5.SELF-DIAGNOSIS
Perform SELF-DIAGNOSIS.
6.REPLACE PART
Replace the malfunctioning part.
7.FINAL CHECK
Check SRS using Diagnosis mode and User mode.