Nissan Maxima Service and Repair Manual: Insufficient cooling
Component Function Check
Symptom
Insufficient cooling
No cool air comes out. (Airflow volume is normal.)
INSPECTION FLOW
1. CONFIRM SYMPTOM BY PERFORMING OPERATION CHECK - TEMPERATURE DECREASE
Press the AUTO switch.
Turn temperature control dial (driver side) counterclockwise until 18C (60F) is displayed.
Check for cold air at discharge air outlets.
2. CHECK FOR ANY SYMPTOMS
Perform a complete operational check and check for any symptoms.
3. CHECK FOR SERVICE BULLETINS
Check for any service bulletins.
4. CHECK DRIVE BELTS
Check compressor belt tension.
5.CHECK SETTING OF TEMPERATURE SETTING TRIMMER
Using CONSULT, check the setting of "TEMP SET CORRECT" on "WORK SUPPORT" of HVAC.
Check that the temperature setting trimmer is set to "+ direction". NOTE: The control temperature can be set with the setting of the temperature setting trimmer.
Set temperature control dial to "0".
6.CHECK WITH SELF-DIAGNOSIS FUNCTION OF CONSULT
Using CONSULT, perform "SELF-DIAGNOSIS RESULTS" of HVAC.
Check if any DTC No. is displayed in the trouble diagnosis results.
NOTE: If DTC is displayed along with DTC U1000 or U1010, first diagnose the DTC U1000 or U1010.
7.CHECK WITH ACTIVE TEST OF CONSULT
Using CONSULT, perform "HVAC TEST""ACTIVE TEST" of HVAC to check each output device. Refer to HAC-26, "CONSULT Function". NOTE: Perform the ACTIVE TEST after starting the engine because the compressor is operating.
Refer to the table and check the outlet, inlet, airflow temperature, blower motor control signal, magnet clutch operation, and air mix ratio. Visually check each operating condition, by listening for noise, touching air outlets with a hand, etc.

8. CHECK AIR MIX DOOR MOTOR OPERATION
Check and verify air mix door mechanism for smooth operation.
9. CHECK COOLING FAN MOTOR OPERATION
Check and verify cooling fan motor for smooth operation.
10. CHECK RECOVERY/RECYCLING EQUIPMENT BEFORE USAGE
Check recovery/recycling equipment before connecting to vehicle. Verify there is no pressure in the recovery/ recycling equipment by checking the gauges. If pressure exists, recover refrigerant from equipment lines.
11. CHECK REFRIGERANT PURITY
Connect recovery/recycling equipment to vehicle.
Confirm refrigerant purity in supply tank using recovery/recycling and refrigerant indentifier.
12. CHECK REFRIGERANT PRESSURE
Check refrigerant pressure with manifold gauge connected.
13. CHECK FOR EVAPORATOR FREEZE-UP
Start engine and run A/C. Check for evaporator freeze-up.
NOTE: Evaporator freeze up usually occurs at sustained highway speeds in hot, humid conditions with blend door at full cold and blower on low speed, after 1-3 hours of continuous driving.
14. CHECK AIR DUCTS
Check ducts for air leaks.
Diagnostic Work Flow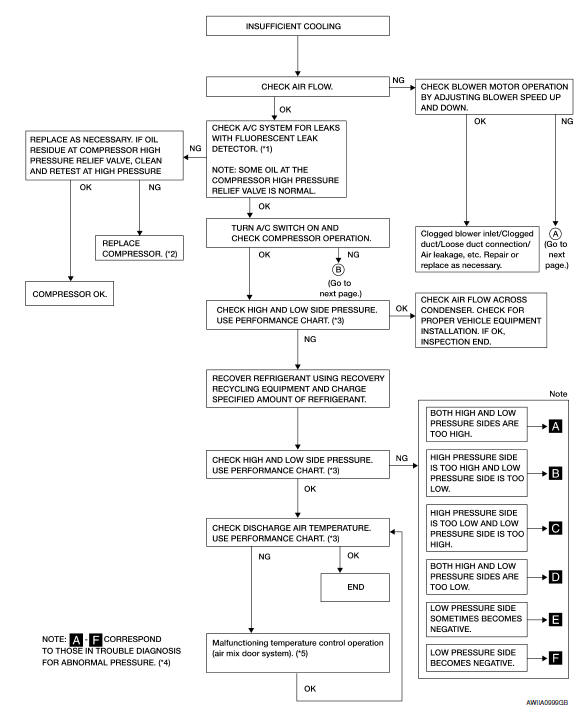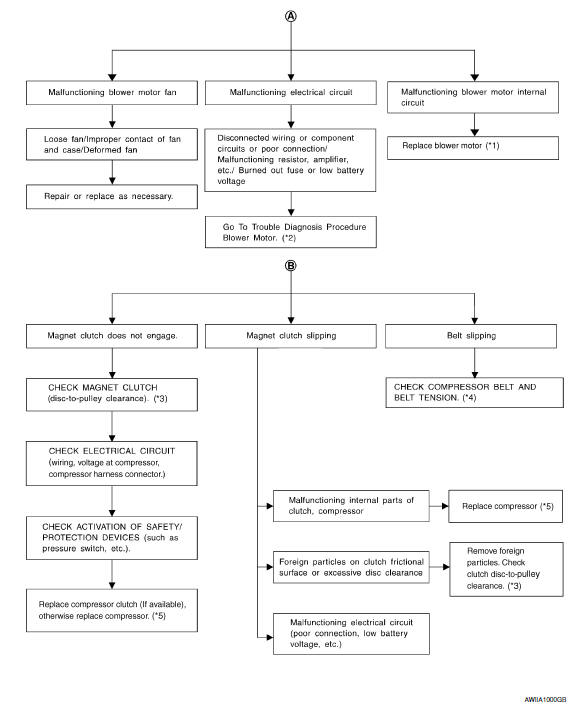 Performance Chart
TEST CONDITION
Testing must be performed as follows:

TEST READING
Recirculating-to-discharge Air Temperature Table

Ambient Air Temperature-to-operating Pressure Table