Nissan Maxima Service and Repair Manual: Sunshade
Exploded View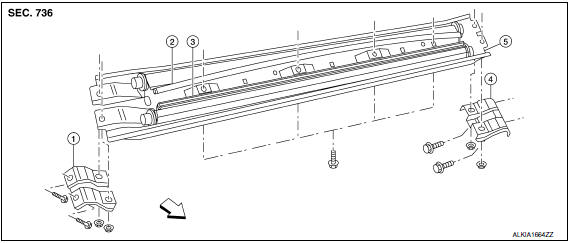 Center bracket (RH)
Rear sunshade
Front sunshade
Center bracket (LH)
Sunshade carrier assembly
Front
Removal and Installation
REMOVAL
Open glass lid and sunshades.
Remove the headlining. Refer to INT-33, "Removal and Installation".
Release front sunshade rail (1) from sunshade drive post (2).
: Front
Repeat sunshade drive post release for the rear sunshade.
Remove side curtain air bag module bolts (two on each (LH/RH) sides) for access.
Release harness clips from sunshade carrier assembly.
Remove the center bracket nuts and bolts, then remove the center brackets (LH/RH).
Remove the sunshade carrier assembly bolts, then lower sunshade and remove from vehicle.
Release the end key slot from the sunshades.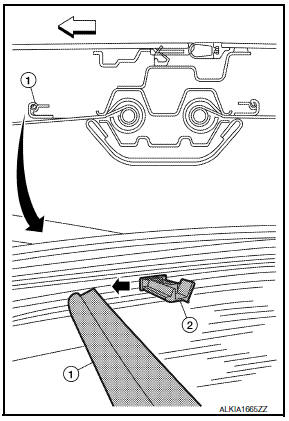 INSTALLATION
CAUTION: Be careful not to release the spring when installing the sunshade.
Wind the shade around the core post.
Insert the round end of the shade (front - black curved rail) into the sunshade carrier assembly.
Using a suitable tool, wind the double-D tang end 20 turns counter-clockwise (when viewed from the end).
Insert the double-d tang end into the slot and lock it into the carrier.
Position the sunshade carrier assembly and install the bolts.
Position the center brackets (LH/RH) and install the bolts and nuts.
Install the side curtain air bag module bolts.
Install the headliner.