Nissan Maxima Service and Repair Manual: Removal and installation
POWER SOCKET
Removal and Installation
POWER SOCKET
NOTE: If the tool does not fit because of the location of the power socket, further disassembly may be required. Refer to IP-14, "Removal and Installation".
Removal
Remove the fuse for the power socket.
Insert one end of the Tool (A) into one of the square holes inside the power socket.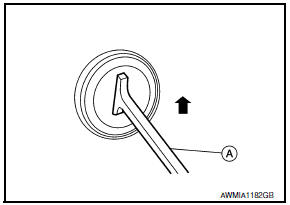 Tool number: - (J-42059)
Lift up the handle of the Tool until the other end of the Tool is inside the socket and snaps into the other square hole in the power socket.
Pull the power socket straight out with the Tool.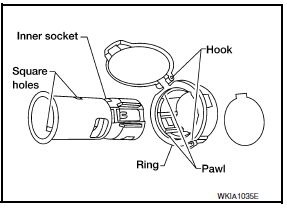 Disconnect connector from the power socket.
Remove ring from power socket finisher while pressing pawls.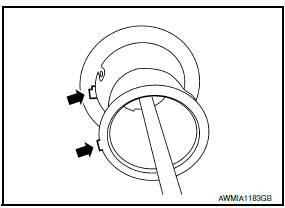 Installation
Installation is in the reverse order of removal.
NOTE: Make sure to align the tab with the square notched area during installation.