Nissan Maxima Service and Repair Manual: Basic inspection
DIAGNOSIS AND REPAIR WORKFLOW
Work Flow
OVERALL SEQUENCE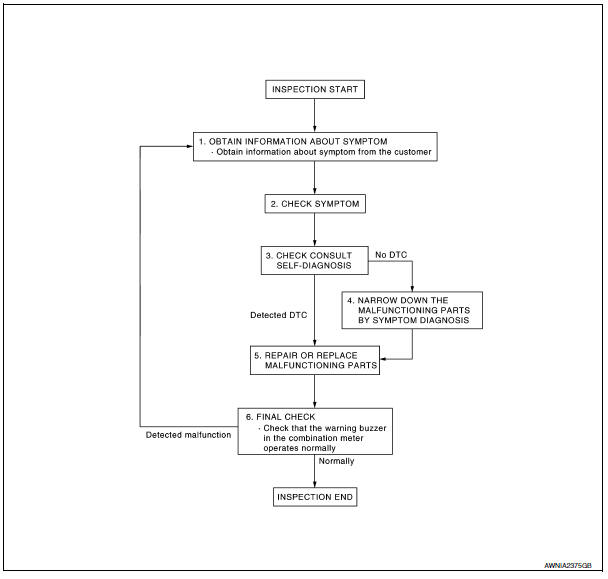 DETAILED FLOW
1.OBTAIN INFORMATION ABOUT SYMPTOM
Interview the customer to obtain as much information as possible about the conditions and environment under which the malfunction occurred.
>> GO TO 2
2.CHECK SYMPTOM
Check the symptom based on the information obtained from the customer.
Check to see if any other malfunctions are present.
>> GO TO 3
3.CHECK CONSULT SELF-DIAGNOSIS RESULTS
Connect CONSULT and perform "SELF-DIAGNOSIS". Refer to MWI-29, "CONSULT Function (METER/ M&A)".
4.NARROW DOWN MALFUNCTIONING PARTS THROUGH SYMPTOM DIAGNOSIS
Perform symptom diagnosis and repair or replace the identified malfunctioning parts.
>> GO TO 5
5.REPAIR OR REPLACE MALFUNCTIONING PARTS
Repair or replace malfunctioning parts.
NOTE:
If DTC is displayed, erase DTC after repairing or replacing malfunctioning parts.
>> GO TO 6
6.FINAL CHECK
Check that the warning buzzer in the combination meter operates normally.