Nissan Maxima Owners Manual: Intelligent Cruise Control (ICC) (if so equipped)
WARNING
Failure to follow the warnings and instructions for proper use of the ICC system could result in serious injury or death.
The ICC system is only an aid to assist the driver and is not a collision warning or avoidance device. It is the driver's responsibility to stay alert, drive safely, and be in control of the vehicle at all times.
Always observe posted speed limits and do not set the speed over them.
Always drive carefully and attentively when using the ICC system. Read and understand the Owner's Manual thoroughly before using the ICC system. To avoid serious injury or death, do not rely on the system to prevent accidents or to control the vehicle's speed in emergency situations. Do not use the ICC system except in appropriate road and traffic conditions.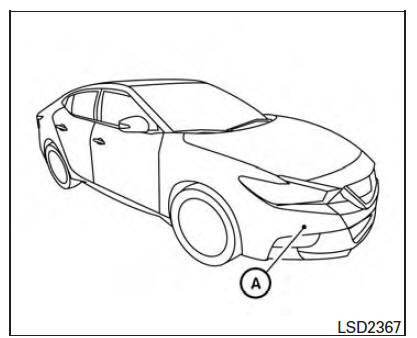 The ICC system is intended to enhance the operation of the vehicle when following a vehicle traveling in the same lane and direction.
The ICC system uses a radar sensor A located on the front of the vehicle to detect vehicles traveling ahead.
If the radar sensor detects a slower moving vehicle ahead, the system will reduce the vehicle speed so that your vehicle follows the vehicle in front at the selected distance.
The detection range of the sensor is approximately 390 ft (120 m) ahead.