Nissan Maxima Owners Manual: Active noise cancellation/Active sound control (if so equipped).
Active noise cancellation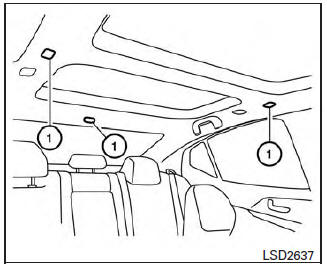 Front and rear microphones
This system uses three microphones 1 located inside the vehicle to detect engine booming noises. The system then automatically generates a noise canceling sound through the speakers and woofer to reduce engine booming noise.
NOTE:
To operate the active noise cancellation system properly:
Do not cover the speakers or woofer.
Do not cover the microphones.
Do not change or modify speakers including the woofer and any audio related components such as the amplifier.
Do not make any modification including sound deadening or modifications around the microphones, speakers, or woofer.
Active sound control
Active sound control enhances existing engine sounds according to the engine speed and driving modes through the speakers and woofer.