Nissan Maxima Service and Repair Manual: Thermostat and thermostat housing
Removal and Installation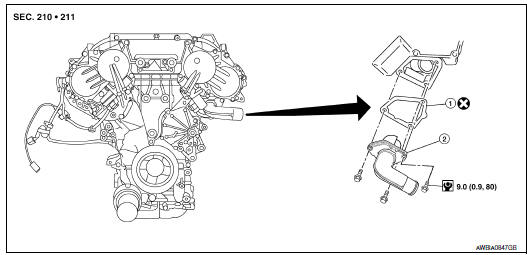 Gasket
Thermostat assembly (water inlet)
WARNING: Do not remove the radiator cap when the engine is hot. Serious burns could occur from high pressure engine coolant escaping from the radiator. Wrap a thick cloth around the radiator cap. Slowly turn it a quarter of a turn to release built-up pressure. Carefully remove radiator cap by turning it all the way.
CAUTION: Perform when engine is cool.
NOTE: When removing components such as hoses, tubes/lines, etc., cap or plug openings to prevent fluid from spilling.
REMOVAL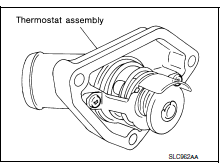 Drain coolant from radiator. Refer to CO-11, "Changing Engine Coolant".
Disconnect reservoir hose and remove reservoir tank.
Disconnect the harness connector from the VTC solenoid (LH).
Disconnect lower radiator hose from thermostat assembly.
Remove thermostat assembly (water inlet).
CAUTION: Do not disassemble thermostat assembly (water inlet).
Replace them as a unit, if necessary.
INSPECTION AFTER REMOVAL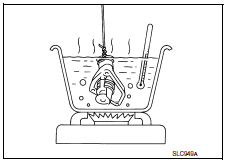 Place a thread so that it is caught in the valves of the thermostat.

Immerse fully in a container filled with water. Heat while stirring.

The valve opening temperature is the temperature at which the valve opens and the thermostat falls from the thread.
Continue heating. Check the full-open lift amount. NOTE: The full-open lift amount standard temperature for the thermostat is the reference value.
After checking the full-open lift amount, lower the water temperature and check the valve closing temperature.

If valve seating at measured values are out of standard range, replace water inlet and thermostat assembly.
INSTALLATION
Installation is in the reverse order of removal.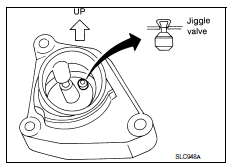 Install thermostat with jiggle valve facing upward.
After installation refill engine coolant and check for leaks. Refer to CO-11, "Changing Engine Coolant" and CO-10, "System Inspection".
CAUTION: Do not spill coolant in engine compartment. Use a shop cloth to absorb coolant.