Nissan Maxima Service and Repair Manual: Front coil spring and strut
Removal and Insallation
REMOVAL
Remove front wheel and tire using power tool. Refer to WT-60, "Adjustment".
Remove the wheel sensor harness from the front coil spring and strut. Refer to BRC-102, "Removal and Installation - Front Wheel Sensor".
Remove the brake hose lock plate.
Remove the lower strut bolts and nuts. Refer to FSU-13, "Exploded View".
Remove the front side cover from the strut tower.
Remove the upper strut bolts and remove the front coil spring and strut from vehicle.
INSPECTION AFTER REMOVAL
Check the front coil spring and strut for any oil leakage or other damage. Replace as necessary.
INSTALLATION
Installation is in the reverse order of removal.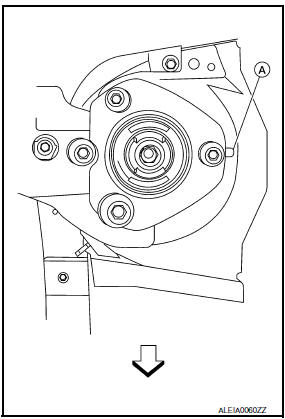 CAUTION: Do not reuse the lower strut nuts.
- Be sure tab (A) on strut mount insulator is positioned as shown.
: Front
- Check wheel alignment. Refer to FSU-6, "Inspection and Adjustment".
Disposal
Set the front suspension strut horizontally with the piston rod fully extended.
Drill 2 - 3 mm (0.08 - 0.12 in) hole at the position ( ) from top as shown to release gas gradually.
CAUTION:
Wear eye protection (safety glasses).
Wear gloves.
Be careful with metal chips or oil blown out by the compressed gas.
NOTE:
Drill vertically in this direction ( ).
Directly to the outer tube avoiding brackets.
The gas is clear, colorless, odorless, and harmless.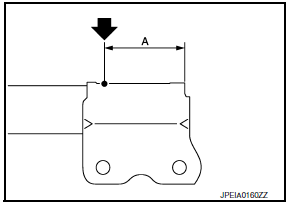 (A) : 20 - 30 mm (0.79 - 1.18 in)
Position the drilled hole downward and drain oil by moving the piston rod several times.
CAUTION: Dispose of drained oil according to the law and local regulations.