Nissan Maxima Service and Repair Manual: Vacuum lines
Exploded View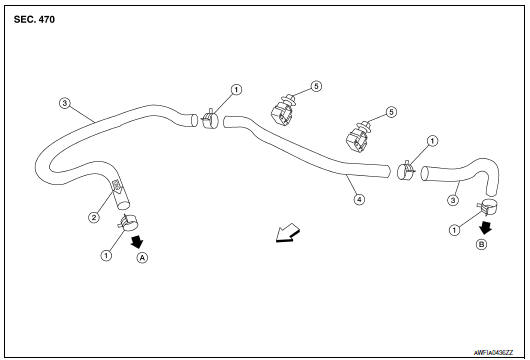 Clamp
Installation arrow
Vacuum hose
Vacuum pipe
Clip
To intake manifold
To brake booster Front
Removal and Installation
REMOVAL
Disconnect the vacuum hose from the brake booster.
Disconnect the vacuum hose from the intake manifold.
Release the clips and remove the vacuum pipe with the vacuum hoses attached.
Remove the vacuum hoses from the vacuum pipe.
INSPECTION AFTER REMOVAL
Visual Inspection
Check for correct installation, damage and deterioration of the vacuum hoses and pipe.
Valve Air-tightness Check
Connect a suitable tool (hand vacuum pump) at each end of the vacuum hose to inspect the check valve operation.
Replace the vacuum hose component or check valve if out of specification
INSTALLATION
Installation is in the reverse order of removal.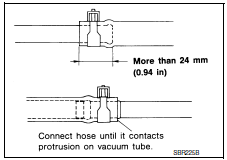 CAUTION:
Because the vacuum hose contains a check valve, the vacuum hose must be installed in the correct position for proper operation. Refer to the stamp on the end of the vacuum hose to confirm correct installation. The brake booster will not operate normally if the vacuum hose with the check valve is installed in the wrong direction.
Insert the vacuum pipe into the vacuum hose at least 24 mm (0.94 in) as shown.
Do not use lubricating oil during installation.