Nissan Maxima Service and Repair Manual: VDC
System Diagram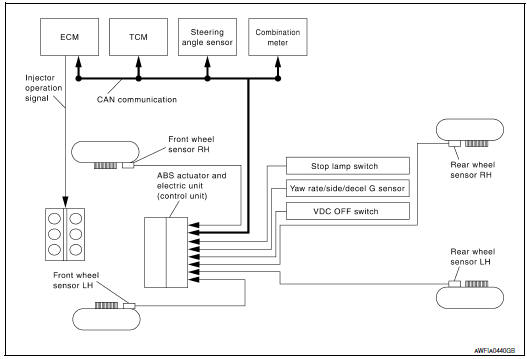 Hydraulic Circuit Diagram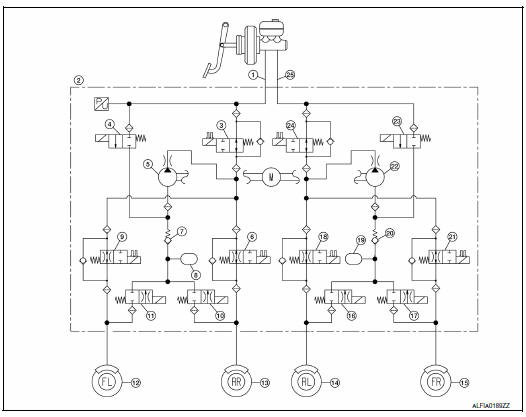 Primary side
VDC/TCS/ABS actuator
Primary side VDC switch-over valve 1 (USV1)
Primary side VDC switch-over valve 1 (HSV1)
Primary side pump
Rear right inlet solenoid valve
Primary side inlet valve
Primary side damper
Front left inlet solenoid valve
Rear right outlet solenoid valve
Front left outlet solenoid valve
Front left caliper
Rear right caliper
Rear left caliper
Front right caliper
Rear left outlet solenoid valve
Front right outlet solenoid valve
Rear left inlet solenoid valve
Secondary side damper
Secondary side inlet valve
Front right inlet solenoid valve
Secondary side pump
Secondary side VDC switch-over valve 2 (HSV2)
Secondary side VDC switch-over valve 2 (USV2)
Secondary side
System Description
Vehicle dynamic control system detects driver's steering operation amount from the steering angle sensor.

Using input information from the yaw rate/side/decel G sensor and wheel speed sensors, the VDC system judges driving conditions (conditions of understeer and oversteer) and controls engine output and brake application to improve vehicle driving stability.

During VDC operation, it informs driver of system operation by flashing SLIP indicator lamp.
Electrical system diagnosis by CONSULT is available.
Component Parts Location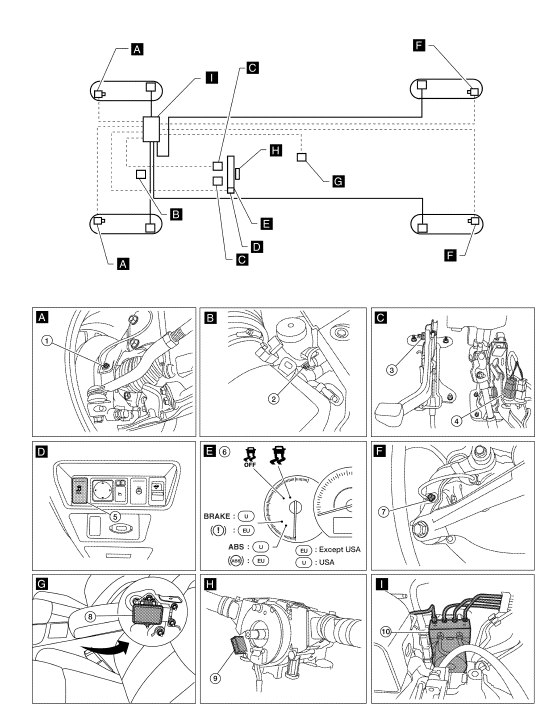 Front wheel sensor LH E19 Front wheel sensor RH E41
Brake fluid level switch E24
Parking brake switch E35
Stop lamp switch E38
VDC OFF switch M72
Combination meter M24
Rear wheel sensor LH C1 Rear wheel sensor RH C2
Yaw rate/side/decel G sensor M55
Steering angle sensor M53 (view with steering wheel removed)
ABS actuator and electric unit (control unit) E26
Component Description