Nissan Maxima Service and Repair Manual: TCS
System Diagram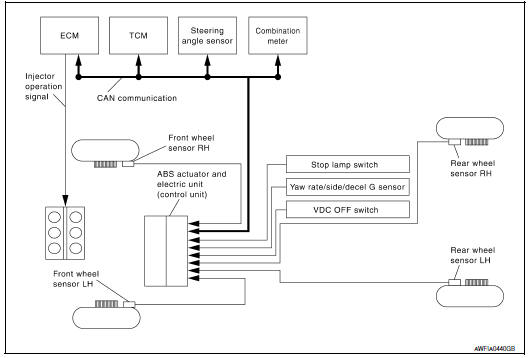 System Description
Traction Control System is a function that electronically controls engine torque and brake fluid pressure to ensure the optimum slippage ratio at drive wheels by computing wheel speed signals from 4 wheel sensors.

When ABS actuator and electric unit (control unit) detects a spin at drive wheels, it compares wheel speed signals from all 4 wheels. At this time, LH and RH front brake fluid pressure are controlled, while fuel being cut to engine and throttle valve being closed to reduce engine torque by the control unit. Further more, throttle position is continuously controlled to ensure the optimum engine torque at all times.

During TCS operation, it informs driver of system operation by flashing slip indicator lamp.
Electrical system diagnosis by CONSULT is available.
Component Parts Location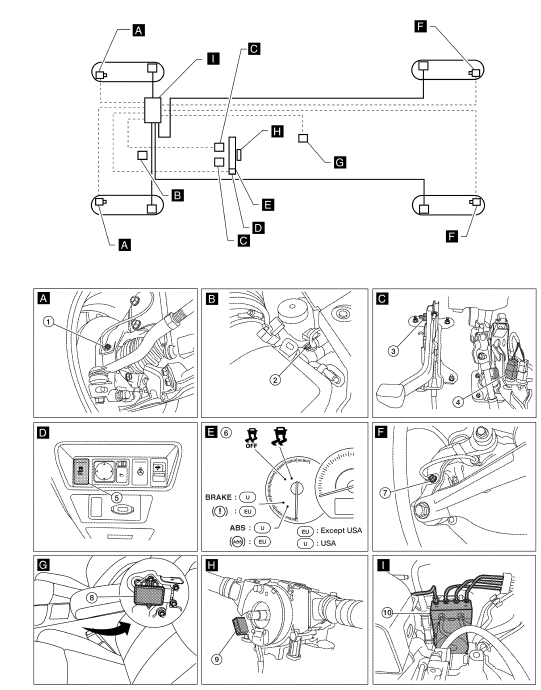 Front wheel sensor LH E19 Front wheel sensor RH E41
Brake fluid level switch E24
Parking brake switch E35
Stop lamp switch E38
VDC OFF switch M72
Combination meter M24
Rear wheel sensor LH C1 Rear wheel sensor RH C2
Yaw rate/side/decel G sensor M55
Steering angle sensor M53 (view with steering wheel removed)
ABS actuator and electric unit (control unit) E26
Component Description