Nissan Maxima Service and Repair Manual: Hydraulic line
Exploded View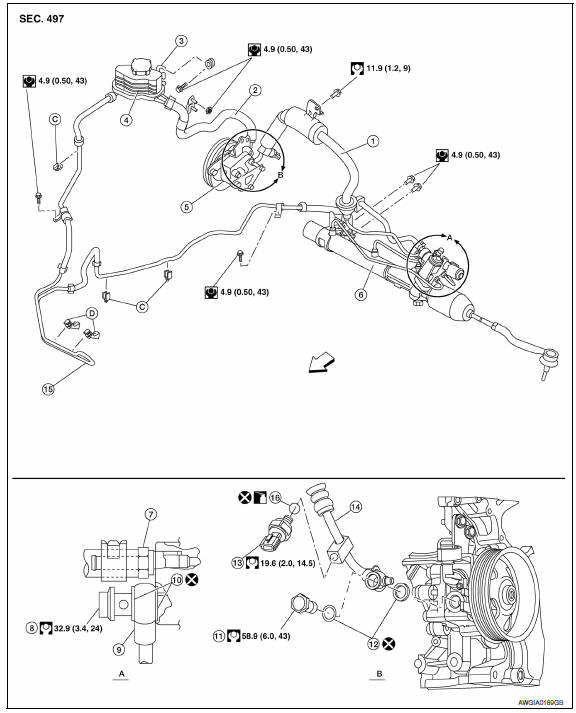 High pressure hose
Suction hose
Reservoir tank bracket
Reservoir tank
Oil pump assembly
Steering gear assembly
Low pressure piping
Eye bolt
High pressure piping
Copper sealing washers
Eye bolt
Copper sealing washers
Power steering pressure sensor
High pressure hose piping
Power steering fluid cooler
O-ring Front
View A
View B
Removal and Installation
CAUTION:
Securely insert harness connector to pressure sensor.
Do not reuse O-rings or copper sealing washers.
NOTE: When removing components such as hoses, tubes/lines, etc., cap or plug openings to prevent fluid from spilling.
REMOVAL
Refer to ST-29, "Exploded View" for removal.
INSTALLATION
Insert hose securely until it contacts tube spool.
CAUTION: Do not use lubricant on hose or fitting.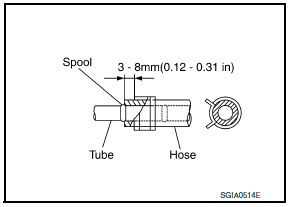 Install eye-bolt (1), copper sealing washers (2) and eye-joint (assembled to high-pressure hose) (4) onto oil pump assembly (3), and temporarily tighten the eye-bolt, then tighten it to the specified torque.
CAUTION: Do not reuse copper sealing washers.