Nissan Maxima Service and Repair Manual: Crash zone sensor
Component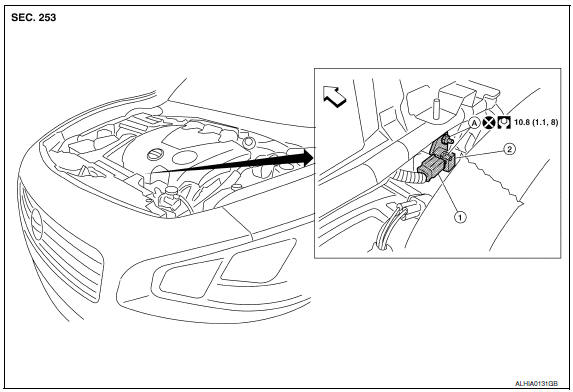 Crash zone sensor harness connector
Crash zone sensor
Nut
Front
Removal and Installation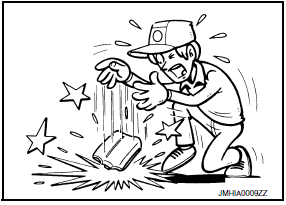 CAUTION:
Before servicing, turn ignition switch OFF, disconnect both battery terminals and wait at least 3 minutes.
Do not use air tools or electric tools for servicing.
Replace the crash zone sensor of deployed SRS driver air bag and deployed SRS front passenger air bag.
Do not cause impact to the crash zone sensor by dropping etc. Replace the crash zone sensor if it has been dropped or sustained an impact.
REMOVAL
Disconnect the negative and positive battery terminals, then wait at least 3 minutes. Refer to PG-67, "Removal and Installation (Battery)".
Remove the front air duct, then position upper radiator hose aside.
Disconnect the harness connector the crash zone sensor.
Remove the nuts, then remove crash zone sensor.
INSTALLATION
Installation is in the reverse order of removal.
CAUTION:
Do not use old crash zone sensor nuts after removal; replace with new nuts.
Be careful not to damage the crash zone sensor harness.
After the work is completed, make sure no system malfunction is detected by air bag warning lamp.
In case a malfunction is detected by the air bag warning lamp, reset by the self-diagnosis function and delete the memory by CONSULT.
If a malfunction is still detected after the above operation, perform self-diagnosis to repair malfunctions.

Refer to SRC-12, "SRS Operation Check".