Nissan Maxima Service and Repair Manual: Diagnosis system (driver seat C/U)
Diagnosis Description
The auto drive positioner system can be checked and diagnosed for component operation with CONSULT.
DIAGNOSTIC MODE
| | |
| --- | --- |
| Diagnostic mode [AUTO DRIVE POS.] | Description |
| WORK SUPPORT | Changes the setting of each function |
| SELF DIAGNOSTIC RESULT | Performs self-diagnosis for the auto drive positioner system and displays the re |
| DATA MONITOR | Displays input signals transmitted from various switches and sensors to driver seat control unit in real time |
| CAN DIAG SUPPORT MNTR | The result of transmit/receive diagnosis of CAN communication can be read. |
| ACTIVE TEST | Drive each output device |
| ECU IDENTIFICATI | Displays part numbers of driver seat control unit parts |
CONSULT Function (AUTO DRIVE POS.)
SELF-DIAGNOSIS RESULTS
Refer to ADP-119, "DTC Index".
DATA MONITOR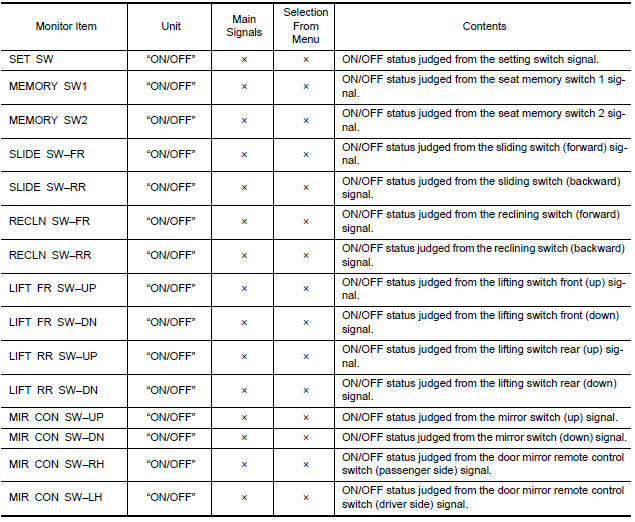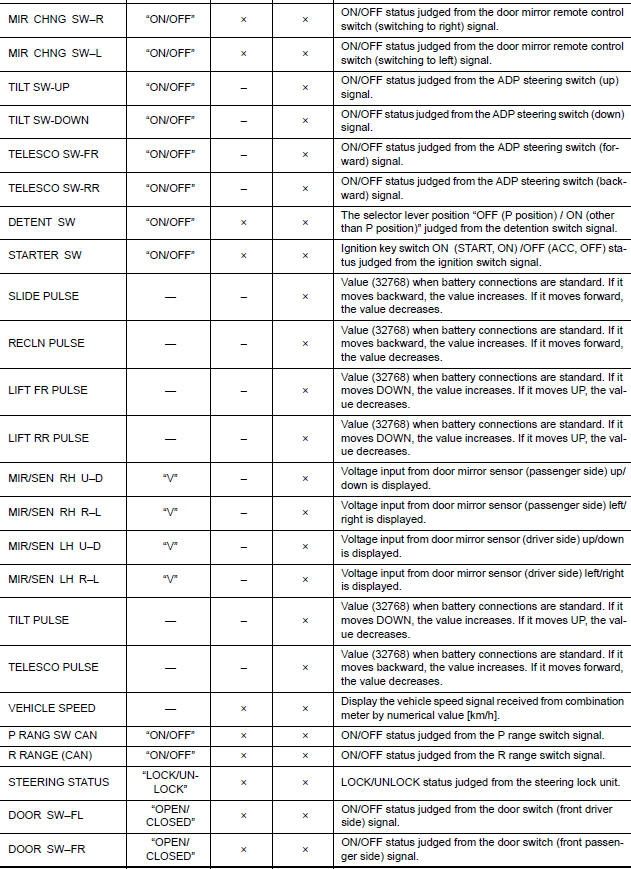 ACTIVE TEST
CAUTION: When driving vehicle, do not perform active test.
| | |
| --- | --- |
| Test item | Description |
| SEAT SLIDE | Activates/deactivates the sliding motor. |
| SEAT RECLINING | Activates/deactivates the reclining motor |
| SEAT LIFTER FR | Activates/deactivates the lifting motor (front). |
| SEAT LIFTER RR | Activates/deactivates the lifting motor (rear |
| TILT MOTOR | Activates/deactivates the tilt motor |
| TELESCO MOTOR | Activates/deactivates the telescopic motor |
| MIRROR MOTOR RH | Activates/deactivates the mirror motor (passenger side). |
| MIRROR MOTOR LH | Activates/deactivates the mirror motor (driver side |
| MEMORY SW INDCTR | Turns ON/OFF the memory indicator |
WORK SUPPORT
Work item
Content
Item
SEAT SLIDE VOLUME SET
The amount of seat sliding for entry/exit assist can be selected from 3 items.
40 mm (1.6 in)
80 mm (3.1 in)
150 mm (6 in)
EXIT TILT SETTING
Entry/exit assist (steering column) can be selected: ON (operated) - OFF (not operated)
ON
OFF
EXIT SEAT SLIDE SETTING
Entry/exit assist (seat) can be selected: ON (operated) - OFF (not operated)
ON
OFF