Nissan Maxima Service and Repair Manual: Horn function
Description
Perform answer-back for each operation with horn.
Component Function Check
1. CHECK FUNCTION
Select HORN in "ACTIVE TEST" mode with CONSULT.
Check the horn (high/low) operation.

Diagnosis Procedure
1. CHECK HORN FUNCTION
Check horn function with horn switch
2. CHECK HORN RELAY POWER SUPPLY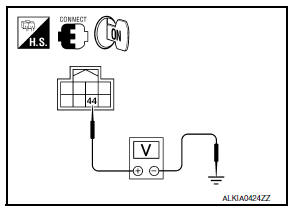 Turn ignition switch ON.
Perform "ACTIVE TEST" ("HORN") with CONSULT.
Using an oscilloscope or analog voltmeter, check voltage between IPDM E/R connector and ground.

3. CHECK INTERMITTENT INCIDENT