Nissan Maxima Owners Manual: Opening the trunk lid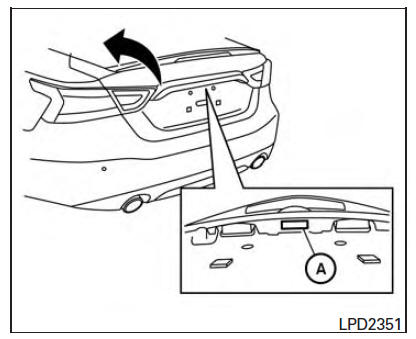 1. Push the trunk opener request switch A for more than 1 second while carrying the Intelligent Key with you. If all doors are already unlocked, opening the trunk does NOT require an Intelligent Key to be in range of the trunk opener request switch or rear of the vehicle.
2. The trunk will unlatch. A chime will sound four times.
3. Raise the trunk lid to open the trunk.
Lockout protection
To prevent the Intelligent Key from being accidentally locked in the trunk, lockout protection is equipped with the Intelligent Key.
When all doors are locked and the trunk lid is closed with the Intelligent Key inside the trunk, the outside buzzer will sound and the trunk will open.