Nissan Maxima Service and Repair Manual: Diagnosis system (BCM)
COMMON ITEM
COMMON ITEM: CONSULT Function (BCM - COMMON ITEM)
APPLICATION ITEM
CONSULT performs the following functions via CAN communication with BCM.
Direct Diagnostic Mode

Description

Ecu Identification
The BCM part number is displayed
Self Diagnostic Result
Displays the diagnosis results judged by BCM
Data Monitor
The BCM input/output signals are displayed.
Active Test
The signals used to activate each device are forcibly supplied from BCM.
Work support
Changes the setting for each system function.
Configuration

Enables to read and save the vehicle specification.
Enables to write the vehicle specification when replacing BCM

CAN Diag Support Mntr
Monitors the reception status of CAN communication viewed from BCM
SYSTEM APPLICATION
BCM can perform the following functions.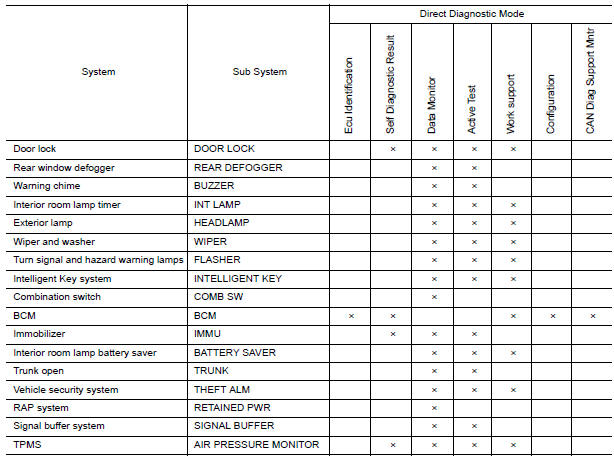 REAR WINDOW DEFOGGER
REAR WINDOW DEFOGGER: CONSULT Function (BCM - REAR DEFOGGER)
DATA MONITOR

ACTIVE TEST