Nissan Maxima Service and Repair Manual: Can communication system
System Description
CAN communication is a multiplex communication system. This enables the system to transmit and receive large quantities of data at high speed by connecting control units with two communication lines (CAN-H and CAN-L).
Control units on the CAN network transmit signals using the CAN communication control circuit. They receive only necessary signals from other control units to operate various functions.
CAN communication lines adopt twisted-pair line style (two lines twisted) for noise immunity.
System Diagram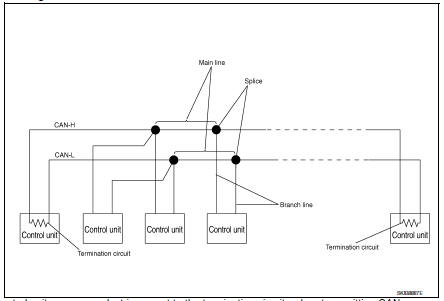 Each control unit passes an electric current to the termination circuits when transmitting CAN communication signal. The termination circuits produce an electrical potential difference between CAN-H and CAN-L. CAN communication system transmits and receives CAN communication signals by the potential difference.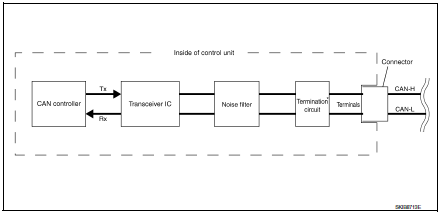 *: These are the only control units wired with both ends of CAN communication system.