Nissan Maxima Service and Repair Manual: The oil pressure warning lamp does not turn off
Description
The oil pressure warning lamp remains illuminated while the engine is running (normal oil pressure).
Diagnosis Procedure
Regarding Wiring Diagram information, refer to MWI-87, "Wiring Diagram".
1.CHECK OIL PRESSURE WARNING LAMP
Perform IPDM E/R auto active test. Refer to PCS-11, "Diagnosis Description".
2.CHECK IPDM E/R OUTPUT VOLTAGE
Turn ignition switch OFF.

Disconnect the oil pressure switch connector.

Turn ignition switch ON.

Check voltage between the oil pressure switch harness connector F41 terminal 1 and ground.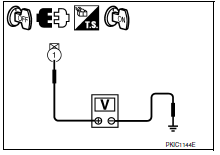 3.CHECK OIL PRESSURE SWITCH
Perform a unit check for the oil pressure switch. Refer to MWI-42, "Component Inspection".
4.CHECK OIL PRESSURE SWITCH SIGNAL CIRCUIT
Check the oil pressure switch signal circuit. Refer to MWI-42, "Diagnosis Procedure".