Nissan Maxima Owners Manual: Unfastening the seat belts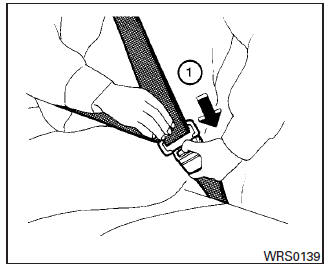 To unfasten the seat belt, press the button on the buckle 1 . The seat belt automatically retracts.
Checking seat belt operation
Seat belt retractors are designed to lock seat belt movement by two separate methods:
When the seat belt is pulled quickly from the retractor
When the vehicle slows down rapidly
To increase your confidence in the seat belts, check the operation as follows:
Grasp the shoulder belt and pull forward quickly. The retractor should lock and restrict further belt movement.
If the retractor does not lock during this check, get the system checked. It is recommended that you visit a NISSAN dealer for this service or to learn more about seat belt operation.