Nissan Maxima Service and Repair Manual: Diagnosis system (BCM)
CONSULT Function (BCM - COMMON ITEM)
APPLICATION ITEM
CONSULT performs the following functions via CAN communication with BCM.

SYSTEM APPLICATION
BCM can perform the following functions.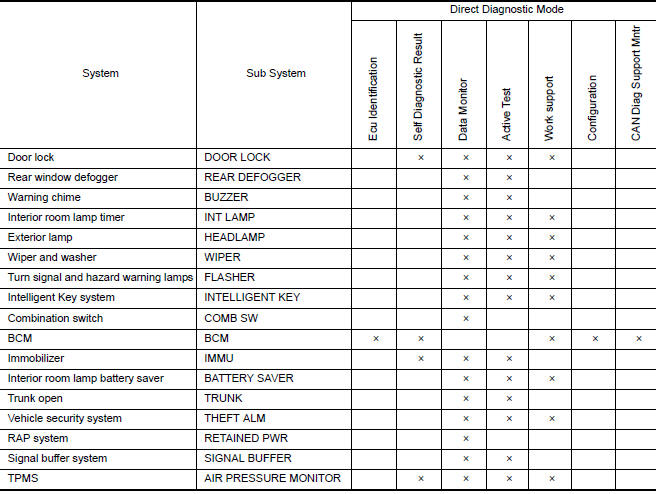 CONSULT Function (BCM - AIR PRESSURE MONITOR)
NOTE: The Signal Tech II Tool (J-50190) can be used to perform the following functions. Refer to the Signal Tech II User Guide for additional information.
Activate and display TPMS transmitter IDs
Display tire pressure reported by the TPMS transmitter
Read TPMS DTCs
Register TPMS transmitter IDs
SELF DIAGNOSTIC RESULT
NOTE: Before performing Self Diagnostic Result, be sure to register the ID, or else the actual malfunction may be different from that displayed on CONSULT.
Refer to BCS-64, "DTC Index".
DATA MONITOR

ACTIVE TEST

WORK SUPPORT