Nissan Maxima Service and Repair Manual: Vacuum lines
Inspection
VISUAL INSPECTION
Check for improper assembly, damage and deterioration. Replace as necessary.
CHECK VALVE INSPECTION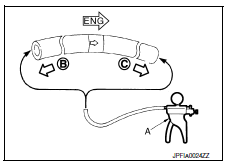 Airtightness Inspection
Use a suitable tool to check the built-in check valve. Replace the vacuum hose with the built-in check valve as an assembly if the vacuum hose is out of specification
BRAKE MASTER CYLINDER
Inspection
LEAK INSPECTION
Check for leaks at master cylinder to brake booster attachment point, reservoir tank, and brake tube connections.