Nissan Maxima Service and Repair Manual: Brake master cylinder
Exploded View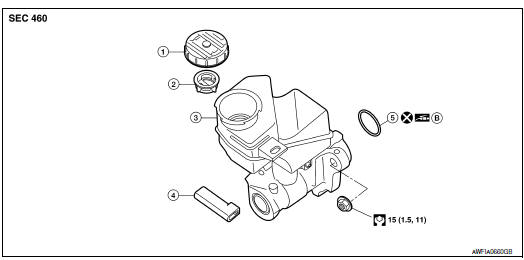 Reservoir cap
Oil strainer (blue)
Master cylinder assembly
Brake fluid level switch harness connector
O-ring
PBC (Poly Butyl Cuprysil) grease or silicone-based grease
Removal and Installation
CAUTION:
Do not to splash brake fluid on painted areas; it may cause paint damage. If brake fluid is splashed on painted areas, wash it away with water immediately.
Refill with new brake fluid.
Do not reuse drained brake fluid.
NOTE: When removing components such as hoses, tubes/lines, etc., cap or plug openings to prevent fluid from spilling.
REMOVAL
Remove the engine room cover. Refer to EM-23, "Removal and Installation".
Remove the air cleaner and air duct. Refer to EM-24, "Removal and Installation".
Disconnect the harness connector from the brake fluid level switch.
Disconnect master cylinder brake tubes, using a suitable tool.
Remove master cylinder nuts.
Remove master cylinder assembly and O-ring.
CAUTION: Do not reuse O-ring.
INSTALLATION
Installation is in the reverse order of removal.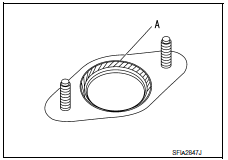 Apply silicone grease to brake booster at position (A) as shown, be sure the O-ring is in proper position when installing master cylinder to brake booster.
CAUTION: Do not reuse O-ring.
Tighten brake tube flare nut to the specified torque using a suitable tool. Refer to BR-20, "Hydraulic Circuit".
Refill the brake hydraulic system with new brake fluid and bleed air. Refer to BR-16, "Bleeding Brake System".
If necessary, adjust the brake booster input rod length. Refer to BR-46, "Brake Booster".