Nissan Maxima Service and Repair Manual: Diagnosis and repair workflow
Work Flow
PRECAUTIONS FOR DIAGNOSIS
If steering angle sensor, steering system parts, suspension system parts, ABS actuator and electric unit (control unit) or if wheel alignment has been adjusted, be sure to adjust neutral position of steering angle sensor before driving. Refer to BRC-6, "ADJUSTMENT OF STEERING ANGLE SENSOR NEUTRAL POSITION : Description".
OVERALL SEQUENCE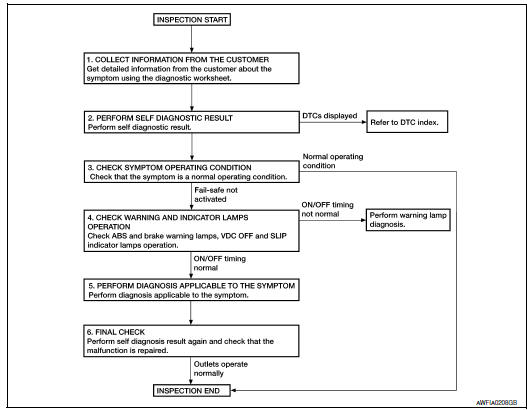 1.COLLECT INFORMATION FROM THE CUSTOMER
Get detailed information from the customer about the symptom (the condition and the environment when the incident/malfunction occurred) using the diagnosis worksheet.
2.PERFORM SELF DIAGNOSTIC RESULT
Perform self diagnostic result
3.CHECK SYMPTOM OPERATING CONDITION
Check that the symptom is a normal operating condition
4.CHECK WARNING AND INDICATOR LAMPS OPERATION
Check warning and indicator lamps operation.
ABS warning lamp:
Brake warning lamp:
VDC OFF indicator lamp
SLIP indicator lamp:
5.PERFORM DIAGNOSIS APPLICABLE TO THE SYMPTOM
Perform diagnosis applicable to the symptom.
6.FINAL CHECK
Perform self diagnostic result again, and check that the malfunction is repaired. After checking, erase the self diagnosis memory
Diagnostic Work Sheet