Nissan Maxima Service and Repair Manual: Precaution
PRECAUTIONS
Precaution for Supplemental Restraint System (SRS) "AIR BAG" and "SEAT BELT PRE-TENSIONER"
The Supplemental Restraint System such as "AIR BAG" and "SEAT BELT PRE-TENSIONER", used along with a front seat belt, helps to reduce the risk or severity of injury to the driver and front passenger for certain types of collision. This system includes seat belt switch inputs and dual stage front air bag modules. The SRS system uses the seat belt switches to determine the front air bag deployment, and may only deploy one front air bag, depending on the severity of a collision and whether the front occupants are belted or unbelted.
Information necessary to service the system safely is included in the SR and SB section of this Service Manual.
WARNING:
To avoid rendering the SRS inoperative, which could increase the risk of personal injury or death in the event of a collision which would result in air bag inflation, all maintenance must be performed by an authorized NISSAN/INFINITI dealer.
Improper maintenance, including incorrect removal and installation of the SRS, can lead to personal injury caused by unintentional activation of the system. For removal of Spiral Cable and Air Bag Module, see the SR section.
Do not use electrical test equipment on any circuit related to the SRS unless instructed to in this Service Manual. SRS wiring harnesses can be identified by yellow and/or orange harnesses or harness connectors.
PRECAUTIONS WHEN USING POWER TOOLS (AIR OR ELECTRIC) AND HAMMERS
WARNING:
When working near the Airbag Diagnosis Sensor Unit or other Airbag System sensors with the Ignition ON or engine running, DO NOT use air or electric power tools or strike near the sensor(s) with a hammer. Heavy vibration could activate the sensor(s) and deploy the air bag(s), possibly causing serious injury.
When using air or electric power tools or hammers, always switch the Ignition OFF, disconnect the battery, and wait at least 3 minutes before performing any service.
Precaution for Brake System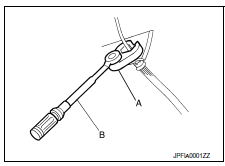 Always use recommended brake fluid. Refer to MA-15, "FOR USA AND CANADA : Fluids and Lubricants" (for United States and Canada) or MA-16, "FOR MEXICO : Fluids and Lubricants" (for Mexico).
Do not reuse drained brake fluid.
Do not spill or splash brake fluid on painted surfaces. Brake fluid may seriously damage paint. Wipe it off immediately and wash with water if it gets on a painted surface.
Always confirm the specified tightening torque when installing the brake pipes.
After pressing the brake pedal more deeply or harder than normal driving, such as air bleeding, check each item of brake pedal. Adjust brake pedal if it is outside the standard value.
Do not use mineral oils such as gasoline or light oil to clean. They may damage rubber parts and cause improper operation.
Always loosen the brake tube flare nut with a flare nut wrench.
Tighten the brake tube flare nut to the specified torque with a crowfoot (A) and torque wrench (B).
Always connect the battery terminal when moving the vehicle.
Turn the ignition switch OFF and disconnect the ABS actuator and electric unit (control unit) harness connector or the battery negative terminal before performing the work.
Check that no brake fluid leakage is present after replacing the parts.
WARNING: Clean brake pads and shoes with a waste cloth, then wipe with a dust collector.
Precaution for Brake Control
Just after starting vehicle with ignition switch ON, brake pedal may vibrate or motor operating noise may be heard from engine compartment. This is normal condition.
When an error is indicated by ABS or another warning lamp, collect all necessary information from customer (what symptoms are present under what conditions) and check for simple causes before starting diagnostic servicing. Besides electrical system inspection, check brake booster operation, brake fluid level, and oil leaks.
If tire size and type are used in an improper combination, or brake pads are not Genuine NISSAN parts, stopping distance or steering stability may deteriorate.
ABS might be out of order or malfunctions by putting a radio (wiring inclusive), an antenna and a lead-in wire near the control unit.
If aftermarket parts (car stereo, CD player, etc.) have been installed, check for incidents such as harness pinches, open circuits, and improper wiring.
VDC system may not operate normally or a VDC OFF indicator lamp or SLIP indicator lamp may light.
When replacing the following parts with parts other than genuine parts or making modifications: Suspensionrelated parts (shock absorber, spring, bushing, etc.), tires, wheels (other than specified sizes), brake-related parts (pad, rotor, caliper, etc.), engine-related parts (muffler, ECM, etc.) and body reinforcement-related parts (roll bar, tower bar, etc.).
When driving with worn or deteriorated suspension, tires and brake-related parts.