Nissan Maxima Service and Repair Manual: Steering wheel
Inspection
INSTALLATION CONDITION
Check installation conditions of steering gear assembly, front suspension assembly, axle and steering column assembly.
Check if movement exists when steering wheel is moved up and down, to the left and right and to the axial direction.
Check steering gear assembly bolts and nut for looseness.
STEERING WHEEL PLAY
Turn steering wheel so that front wheels come to the straight-ahead position. Start engine and lightly turn steering wheel to the left and right until front wheels start to move. Measure steering wheel movement on the outer circumference.
When the measurement value is outside the standard value, check backlash for each joint of steering column assembly and installation condition of steering gear assembly.
NEUTRAL POSITION OF STEERING WHEEL
Make sure that steering gear assembly, steering column assembly and steering wheel are installed in the correct position.
Perform neutral position inspection after wheel alignment. Refer to FSU-6, "Inspection and Adjustment".
Set vehicle to the straight-ahead position and confirm steering wheel is in the neutral position.
Loosen outer socket lock nut and turn inner socket to left and right equally to make fine adjustments if steering wheel is not in the neutral position.
STEERING WHEEL TURNING FORCE
Park vehicle on a level, dry surface and set parking brake.
Start engine.
Bring power steering fluid up to adequate operating temperature. Make sure the fluid temperature is approximately 50 - 80C (122 - 176F).

Tires need to be inflated to normal pressure.

Check steering wheel turning force using Tool when steering wheel has been turned 360 degrees from the neutral position.
If steering wheel turning force is out of specification, check rack sliding force.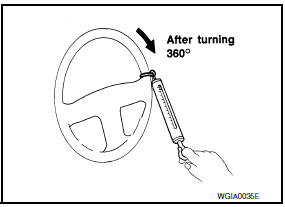 Tool number : - (J-44372)
While pulling outer socket slowly in +-11.5 mm (+-0.453 in) range from neutral position, make sure rack sliding force is within specification using Tool.
If rack sliding force is not within specification, replace steering gear assembly.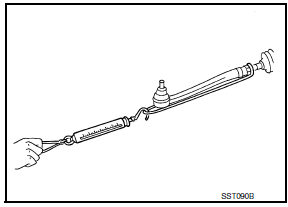 Tool number : - (J-44372)
If rack sliding force is OK, inspect steering column.
FRONT WHEEL TURNING ANGLE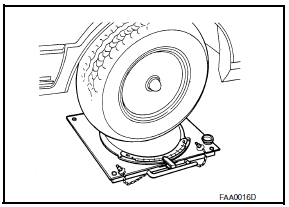 With the engine at idle, turn steering wheel from full left stop to full right stop and measure the turning angles.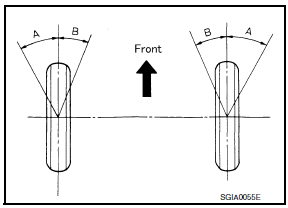 Measure rack stroke in neutral position if angles are outside the specified value.