Nissan Maxima Service and Repair Manual: Power steering oil pump
Inspection
CAUTION: Make sure that belt tension is normal before starting the following procedure.
Connect the Tool between oil pump discharge connector and high-pressure hose. Bleed air from the hydraulic circuit while opening the shut-off valve fully. Refer to ST-12, "Inspection".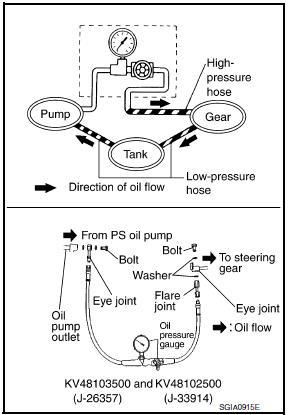 Tool numbers : KV48103500 (J-26357)
: KV48102500 (J-33914)
Start engine. Run engine until power steering fluid temperature reaches 50 - 80C (122 - 176F).
CAUTION:
Leave the shut-off valve of the Tool fully open while starting and running engine. If engine is started with the shutoff valve closed, the hydraulic pressure in oil pump goes up to the relief pressure along with unusual increase of power steering fluid temperature.
Be sure to keep hose clear of belts and other parts when engine is started.
Fully close the shut-off valve with engine at idle and measure the relief oil pressure.
CAUTION: Do not keep shut-off valve closed for 10 seconds or longer.
Open the shut-off valve slowly after measuring. Replace oil pump if the relief oil pressure is outside the standard.
After inspection, disconnect the Tool from hydraulic circuit, then add power steering fluid and perform air bleeding. Refer to ST-12, "Inspection".