Nissan Maxima Service and Repair Manual: Warning function
System Description
OPERATION DESCRIPTION
The warning functions are as follows and are given to the user as warning information and warnings using combinations of Intelligent Key warning buzzer, KEY warning lamp, key slot illumination and combination meter display in combination meter.
Intelligent Key system malfunction
OFF position warning
P position warning
ACC warning
Take away warning
Door lock operation warning
Key warning
Intelligent Key insert information
Engine start information
Intelligent Key low battery warning
Key ID warning
OPERATION CONDITION
Once the following condition from below is established, alert or warning will be executed.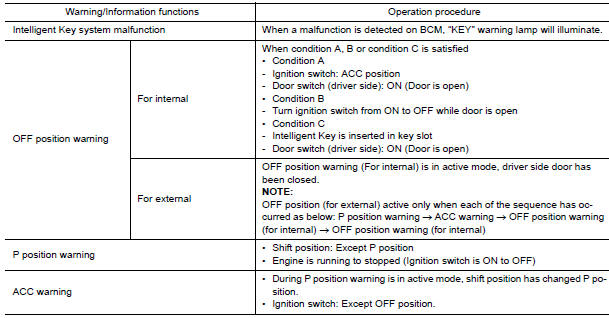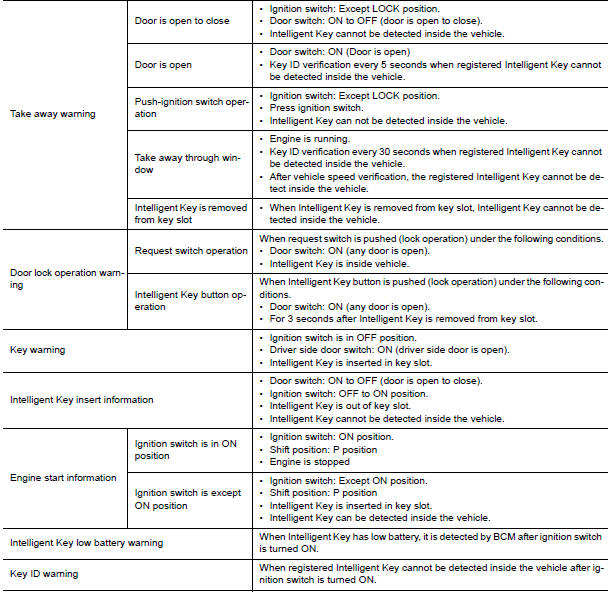 WARNING METHOD
The following table shows the alarm or warning methods with chime.
Meter display, "KEY" indicator or key slot illumination when the warning conditions are met.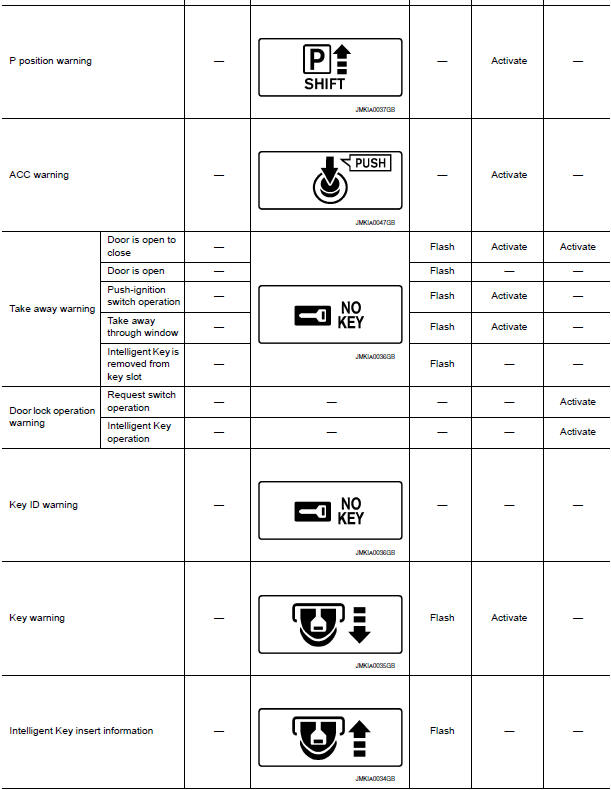 LIST OF OPERATION RELATED PARTS
Parts marked with × are the parts related to operation.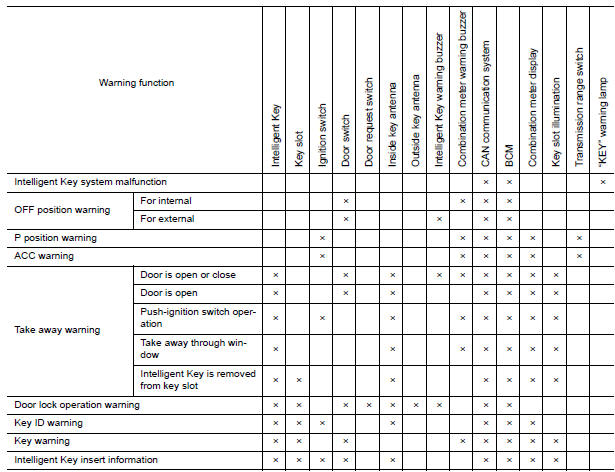 Component Parts Location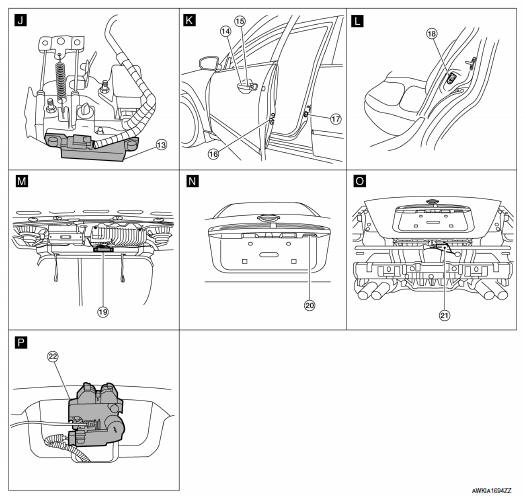 Horn (low) E215 (view with front fender protector LH removed)
Horn (high) E216
IPDM E/R E17, E18
Horn relay H-1
Intelligent Key warning buzzer E28
Remote keyless entry receiver M27 (view with instrument panel removed)
Combination meter M24
BCM M16, M17, M18, M19, M20, M21 (view with instrument panel removed)
Stop lamp switch E38
Push button ignition switch M38
Key slot M40
CVT shift selector (park position switch (Intelligent Key system)) M78
Front console antenna M41 (view with center console assembly removed)
Front outside handle LH (outside key antenna) D6
Front outside handle RH (outside key antenna) D106
Front outside handle LH (request switch) D15
Front outside handle RH (request switch) D115
Front door lock assembly LH (door unlock sensor) D10
Front door switch LH B8 RH B108
Rear door switch LH B18 RH B116
Rear parcel shelf antenna B29
Trunk opener request switch T5
Rear bumper antenna B46
Trunk lamp switch and trunk release solenoid T7