Nissan Maxima Service and Repair Manual: Compass
Description
DESCRIPTION
With the ignition switch in the ON position, and the mode (N) switch ON, the compass display will indicate the direction the vehicle is heading.
Vehicle direction is displayed as follows:
N: north
E: east
S: south
W: west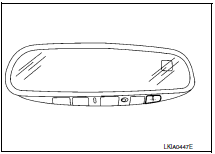 ZONE VARIATION SETTING PROCEDURE
The difference between magnetic north and geographical north can sometimes be great enough to cause false compass readings. This difference is known as variance. In order for the compass to operate properly (accurately) in a particular zone, the zone variation must be calibrated using the following procedure.
Zone Variation Chart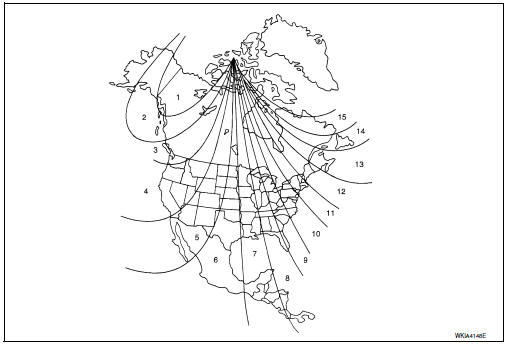 Determine your location on the zone map.
Turn the ignition switch to the ON position.
Hold the mode (N) switch down until the current zone number is displayed.
Press the mode (N) switch repeatedly until the desired zone number appears in the display.
Compass will exit zone setting mode and display correct heading automatically.
NOTE:
Use zone number 5 for Hawaii.
CALIBRATION PROCEDURE
The compass display is equipped with an automatic correction function. If the compass display reads "C" or the direction is not shown correctly, perform the correction procedure below.
Hold the mode (N) switch until the display reads "C".
Drive the vehicle slowly in a circle, in an open, safe place. The initial calibration is completed in about three turns.
NOTE:
In places where the terrestrial magnetism is extremely disturbed, the initial correction may start automatically.