Nissan Maxima Owners Manual: Driving the vehicle
Continuously Variable Transmission (CVT)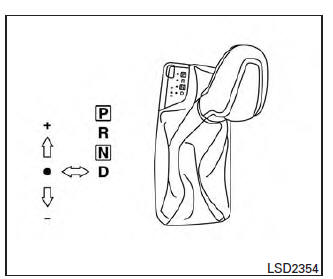 WARNING
Do not depress the accelerator pedal while shifting from P (Park) or N (Neutral) to R (Reverse), D (Drive), or M (Manual shift mode). Always depress the brake pedal until shifting is completed.

Failure to do so could cause you to lose control and have an accident. It can also damage the vehicle.

Cold engine idle speed is high, so use caution when shifting into a forward or reverse gear before the engine has warmed up.
Do not downshift abruptly on slippery roads. This may cause a loss of control.
Never shift to either the P (Park) or R (Reverse) position while the vehicle is moving forward and P (Park) or D (Drive) position while the vehicle is reversing.

This could cause an accident or damage the transmission.
CAUTION
Except in an emergency, do not shift to the N (Neutral) position while driving.

Coasting with the transmission in the N (Neutral) position may cause serious damage to the transmission.

To avoid possible damage to your vehicle, when stopping the vehicle on an uphill grade, do not hold the vehicle by depressing the accelerator pedal. The foot brake should be used for this purpose.
The CVT in your vehicle is electronically controlled to produce maximum power and smooth operation.
The recommended operating procedures for this transmission are shown on the following pages.
Follow these procedures for maximum vehicle performance and driving enjoyment.
NOTE:
Engine power may be automatically reduced to protect the CVT if the engine speed increases quickly when driving on slippery roads or while being tested on some dynamometers.