Nissan Maxima Owners Manual: Remote Engine Start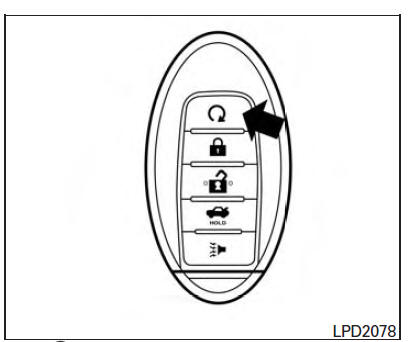 The

button will be on the NISSAN Intelligent Key if the vehicle has remote engine start.
This feature allows the engine to start from outside the vehicle.
The following features may be affected when the remote start feature is used:
Vehicles with an automatic climate control system will default to either a heating or cooling mode depending on outside and cabin temperatures. For additional information, refer to "Remote engine start logic" in the "Monitor, climate, audio, phone and voice recognition systems" section of this manual.
Laws in some local communities may restrict the use of remote starters. For example, some laws require a person using remote start to have the vehicle in view. Check local regulations for any requirements.
Other conditions may affect the function of the Remote Engine Start feature. For additional information, refer to "Conditions the remote start will not work" in this section.
Other conditions can affect the performance of the Intelligent Key transmitter. For additional information, refer to "NISSAN Intelligent Key" in this section.